About
Moonlight In Empty Rooms
A Musical Analysis of the Art of Alexander Volkov
In a surprisingly private corner of the very public worlds of music and art, you will find the eminent Russian realist Alexander Volkov and his wife, award winning pianist-composer Heidi Breyer in their respective studios, working alone on their inextricably connected art forms. These two artists have pushed the boundaries of collaboration well beyond synergy to synonymity through sharing their lives, their observations of the world around them and their love of art as a nourishing life ingredient.
"You can't fail to recognize the magnificence and splendor of the world we live in through the lens of Al's work. People ask, where is his central subject matter? And I answer, it's clearly in the way he paints light, the light of our beautiful world."
– Heidi Breyer
After ten years of tough life changes and on-going artistic exploration and career growth, Alexander and Heidi have arrived at "Moonlight In Empty Rooms" an art and musical immersion that speaks to anyone looking for an opportunity for deep contemplation in the comfort of their home, or, the seat of a recital hall.
The collection of 12 piano and violin pieces were written specifically in response to Alexander's paintings of the same name. In the booklet that accompanies the CD, we find images, explanations and vignettes of inspiration, but if that is not enough, also enclosed is a dvd containing astounding moving footage crafted almost entirely of Alexander art, set to Heidi's music with each of the 12 videos maintaining their integrity through the simple and immersive way Alexander and Heidi created them.
"Heidi's music allows me to look at my work as if for the first time and nothing compares to that…"
– Alexander Volkov
The two artists also collaborate in live performance. Alexander speaks philosophically about art and life and Heidi plays solo or ensemble and pitches in with lighter comment as if steering at the helm of the ship. It is a rare and unique thing.
The music was produced at Imaginary Road Studios, home to Grammy winning guitarist and producer and Founder of Windham Hill Records Will Ackerman. The production team consists of Heidi, Will Ackerman and Tom Eaton and Charlie Bisharat lends his inimitable talent in soaring passages on the violin.
Heidi has created a deep visceral and musical analysis of Alexander's art and together they deliver a singular experience that is not to be missed.
"Heidi Breyer's music has consistently defined her as one of the finest pianists and composers on the scene today. Her latest release, Moonlight In Empty Rooms is unquestionably her most impressive recording to date. The pieces themselves are inspired by a collection of stunning paintings by her husband, artist Alexander Volkov (reminiscent but by no means imitative of Andrew Wyeth) and her choice to work exclusively with Charlie Bisharat (arguably the most talented session violinist in the US today) only adds to the overall beauty and tone of the recording. A musician and composer who refuses to remain static in her musical evolution, Heidi Breyer has given us her finest and most accomplished work in Moonlight In Empty Rooms." 
– Will Ackerman, Grammy winning guitarist and producer and Founder of Windham Hill Records.
"Heidi fills a canvas of silence with sonic images that demand to be listened to. Her music delights, compels, and provokes. Be prepared to be swept into the worlds she creates with each note, chord, and rest.  It was my pleasure to support this incredible project."
– Tom Foth, Fan
For more critique about the album, please visit REVIEWS on the menu bar.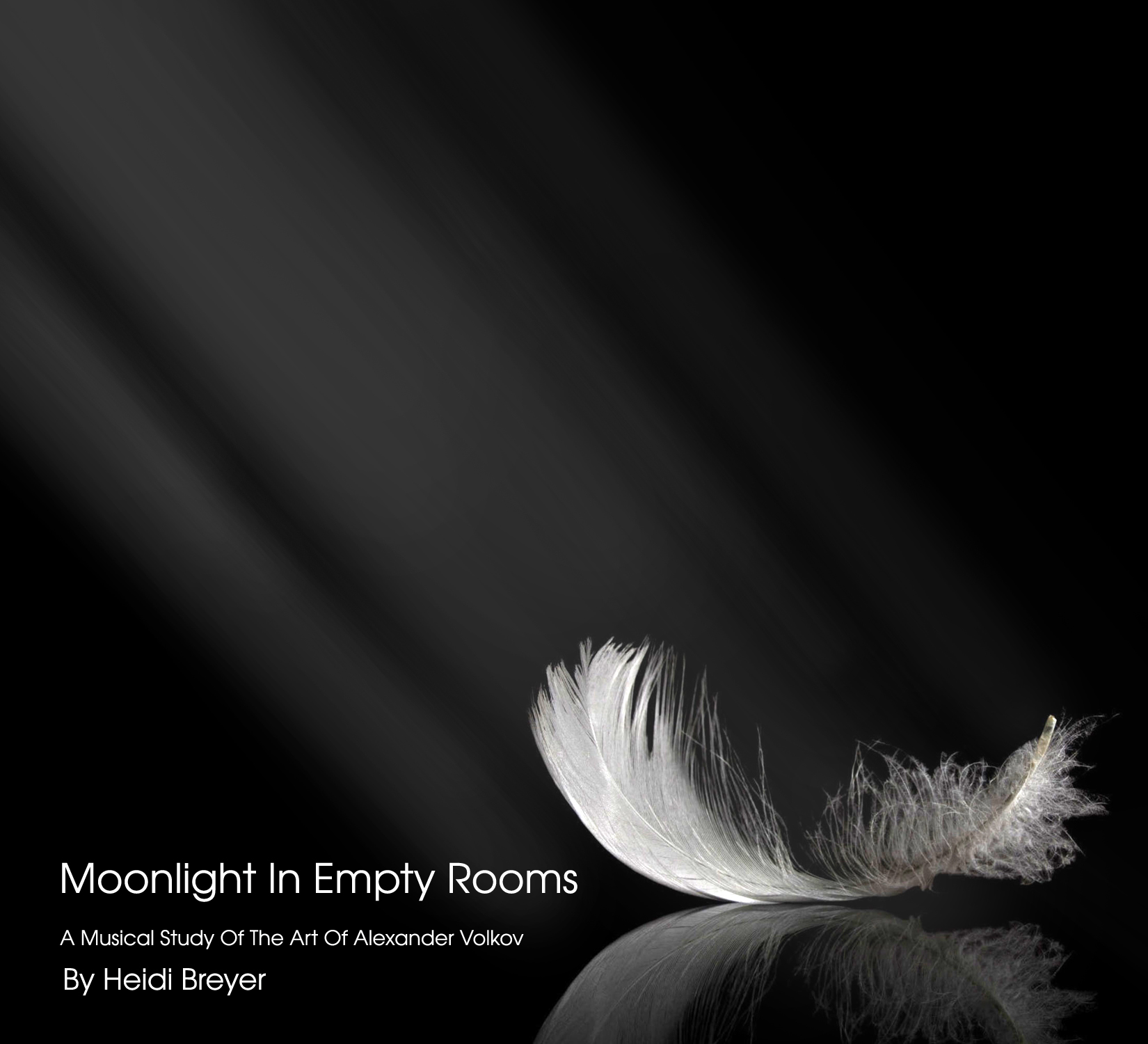 Stream and Download songs Individually here:
Unfinished Conversation – 6.36
Autumn Snowfall -6.52
Autumn In Bruges – 4.13
Christian's Workshop – 4.03
Moonlight In Empty Rooms – 5.27
Eastertide – 4.37
Rainy Day – 3.40
The Sound And The Fury – 4.17
Winter Rose – 4.05
Half Hour Before Spring – 5.35
Faith – 8.05
End of Summer – 2.47